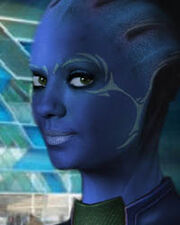 Mie Lakunis is a former pildavi player, considered "the legend" or -- her nickname in her active days -- "the empress". Being an offensive midfielder she was known for having an unrivalled control of the team and instincts for the score. She holds various records, for most scores, most assists, most played matches and consecutive matches.
Her home is Thessia, where she played for both the Thessia Thunder and their archrival, Thessia Stardusters, being the only player to ever switch between the two (for an undisclosed record sum). She ended her career for the Thunder.
Since then Mie tried her hand at coaching but after a couple of unsuccessful seasons she was cast by the Asari Pildavi Union as an expert commentary on the stellarcasts. She sometimes gave opinions in the regular Matchday! reports, which were sometimes featured on CDN.
In general she is quite easy going and aproachable, but well aware of her achievements. She has Matriarch status now but will never be aproached about anything other than sports.
Trivia
In her prime and shortly after, she was featured in a very popular Salarianime series, "Mie, Superstar", evolving around a fictional Thessian team of losers that then get to the top. Her merchandise is still selling to this day and there have been various rumours abut a revival of "Mie, Superstar".
OOC
The avatar was provided by asari_promiscuity and is based (of course) on Mila Kunis.